Sochi's Tunnel - ein olympisches Architektur-Highlight
Novelis Aluminium für ein besonders olympisches Erlebnis


Wie filigrane Ornamente wirkt die Aluminiumbekleidung des Tunnels aus weißem Novelis Farbaluminium ff2®.

Die russische Stadt Sochi ist Austragungsort der Olympischen Winterspiele und Paralympics 2014 sowie Spielstätte bei der Fußball-Weltmeisterschaft 2018. Im Rahmen des städtebaulichen Entwicklungsprojekts wird anlässlich der Olympischen Winterspiele das Straßen- und Schienennetz mit Tunnelsystem von über 30 km Gesamtlänge ausgebaut.

Architekt und Manager des eindrucksvollen Projekts ist Karen Saprichian, Professor der International Academy of Architecture und Leiter des Projekt-und Design Büros GrandProektSity, LLC, Russland.

Novelis ff2® Farbaluminium bewies sich bei diesem anspruchsvollen Projekt als ideales Material für das architektonische Design der Tunnelbekleidung, vor allem durch seine hochfeste Legierung und die hochwertige PVdF-Beschichtung. Von entscheidender Bedeutung war dabei die hervorragende Verarbeitbarkeit und Langlebigkeit, insbesondere durch die korrosions- und kreidungsbeständige Oberfläche. Farbaluminium ff2® zeichnet sich durch eine exzellente Witterungsbeständigkeit und hohe Belastbarkeit aus, ist darüber hinaus 100 % recycelbar.

Die Paneele und dekorative Bekleidung der Tunnel wurden von der Firma SMK, LLC, dem Novelis Partner in Russland gefertigt. Insgesamt wurden dafür ca. 1.500 m2 Paneele aus Novelis ff2® Farbaluminium in 2 mm Stärke in Granitgraumetallic und über 620 m2 Dekorbekleidung der Farbe Sealandwhite produziert und von Firma Metal Fasad, LLC, verlegt.

Dabei sind die einzelnen Elemente innerhalb der komplexen Struktur in unregelmäßiger Geometrie und unterschiedlicher Höhe angeordnet, wobei gleichzeitig bis zu acht Elemente mit verschiedenen Koordinaten in jeweils einer Spitze zusammentreffen. Mittels LED-Projektoren wirkt die Bekleidung der Tunnelportale sowohl am Tag wie auch nachts und zu jeder Jahreszeit gleichermaßen beeindruckend.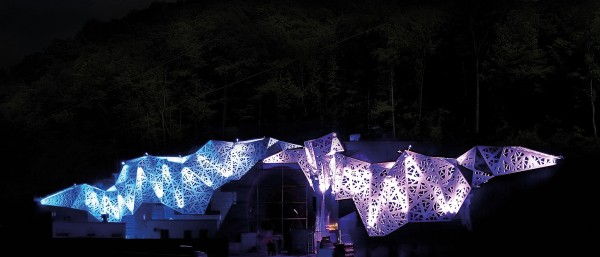 Ausgezeichnet beim Architektur-Festivals "Zodchestvo-2012"

Das Projekt mit dem Originaltitel "Architectural and artistic design of tunnel portals of combined road Adler-Alpika Service gilt als eine der sechs besten Baukonstruktionen Russlands in 2012 und wurde auf dem Festival "Zodchestvo" mit dem Silbernen Preis ausgezeichnet.

ff2® Farbaluminium erhalten sie in Standardfarben sofort ab Lager bei unserem offiziellen Vertriebspartner W. Hartmann & Co.

http://www.w-hartmann.de/
Novelis Deutschland GmbH

www.novelis.com
sales.goettingen@novelis.com


Not just aluminium, Novelis Aluminium™