Pre-painted aluminium fascinates in the center of Moscow
Within the heart of Moscow the Oceania Shopping Centre has become an extravagant new attraction with an impressive façade design of Novelis ff2® pre-painted aluminium.
The centre, which opened in October 2016, is named after its main attraction – the largest cylindrical saltwater aquarium in the world. The 24m high/ 10m wide acrylic aquarium is the focal point of the centre.


Façade of Novelis ff2® pre-painted aluminium


Cylindrical saltwater aquarium
© ICM

Perforated façade shines in a sea of lights

The architect Andrey Asadov explained the idea behind the design of the three-dimensional perforated façade: he wanted to create a vivid play of light and shadow to make the massive complex appear lighter. The special metallic color shade with pearlescence, supports this concept and leads to different colour shades depending on the viewing angle. By day the façade appears in an eye-catching and highly contrasting pearl white and bluish look. By night in comparison, the backlight of the wavy and lively façade creates a spectacular light play which runs along the façade like a shimmering ocean.

The façade construction company SMK / AluWall were commissioned to implement this extraordinary concept. Due to its' strength even when perforated, the Novelis AIMg3-alloy façade sheet is able to support a higher span width than commercial solid aluminium sheets compared to an AIMg1-alloy. The façade cladding consists of 18,000 m² ff2® pre-painted aluminium in a thickness of 2 mm with a high quality PVdF coating in gloss ink "Shine-Perlweiss-Blau". This color shade provides a pearl white or bluish appearance depending on the reflection of the sunlight.


Wavy façade structure

The large-sized perforated aluminium cassettes made of ff2® are provided with continuously repeating round holes in a diameter of 5 cm up to 15 cm. Despite the resulting exposed edges they offer a high degree of corrosion protection due to high-quality alloy and surface coating. The punched round blanks remain a part of the façade by rotating them 90° in the punched recesses. Thus the name Oceania is also reflected in the façade design. This creates the visual impression of a dynamic and wavy façade structure.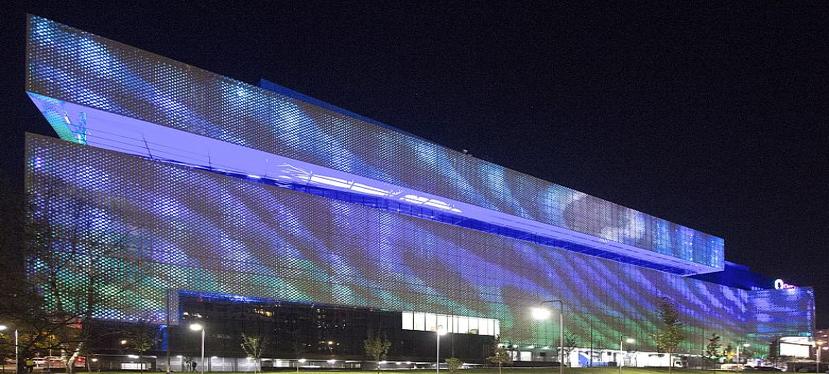 Oceania by night
© A. A. Asadov


The challenging architectural concept of the Oceania shopping and adventure world, shows once again how innovative and imaginative façades are possible with Novelis ff2® pre-painted aluminium.

Punched round blanks
© A. A. Asadov


Dynamic and wavy façade structure



Novelis Deutschland GmbH

www.novelis.com
sales.goettingen@novelis.com