Aluminum on the up-swing
Wind turbine's outer shell designed with Novelis anodised aluminum

A perfect complement from both an ecological and economic perspective: A project for the production of renewable energy, clad with aluminium - an environmentally friendly and recyclable material.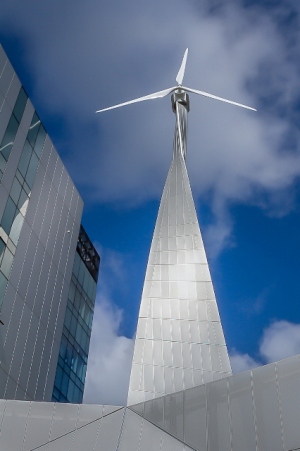 Standing at 55m tall, the Northwind 100 wind turbine has an exterior skin which is unique in its shape and form and is covered with Novelis J57S ® batch-anodised aluminum. The elongated triangular pyramid mast coils upwards in a twisting motion tapering at the top, thus architecturally expressing the rotational dynamics of the turbine.

For the surface cladding of some 1,600 m2 (13 tonnes) of Novelis J57S ®, the fabrication was carried out by KME Architectural Solutions in Kirby, Merseyside with United Anodisers (HMF) in Huddersfield, batch anodising each of the panels.

The remarkable design was developed by the Wintech-Group, UK, which employed façade technology to find a solution which took into consideration aesthetic, ecological and structural factors. Novelis anodised J57S ® a product which is highly resistant to weathering and corrosion but which also has excellent properties for processing was the perfect solution.


Software- controlled facade technology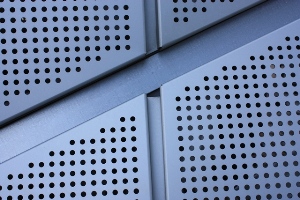 The complex geometry form was designed using Proteus Software and consisted of some 200 perforated anodised aluminium panels for the turbine mast. This specially tailored software was used to model the perforated façade construction and was even used to program the automated production of the manufacturing for each of the individual façade panels and ancillary components.


The perforations of the in the Proteus SC system produced sheets are constructed to enable an installation of covered fastening points on a vertical sub-construction. As a result numerous project designs and individual design options are feasible with perforated sheets.

High-quality Novelis J57S ® in conjunction with innovative technical solutions has enabled demanding and ambitious architectural designs to come to fruition.


Novelis Deutschland GmbH

www.novelis.com
sales.goettingen@novelis.com


Not just aluminium, Novelis Aluminium™