Villa M - Bespoke Architecture with Aluminium
Residential and office building "Villa M" in Magdeburg features ventilated façade made of Novelis pre-painted aluminium ff2®

Located directly on the banks of the Elbe River with an impressive view of Magdeburg's historical old town, the "Villa M" harmoniously combines spacious living area with prestigious office space.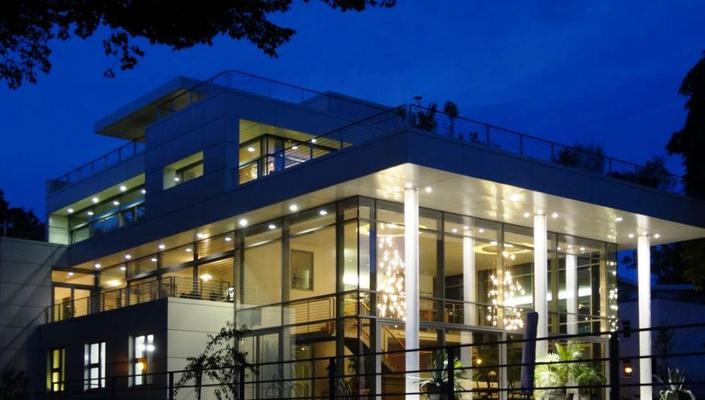 The ship-like feel of a modern luxury yacht and the high-tech character of the building with its imposing glass fronts and spacious terraces reflect both the innovative design concept of leading architect Andreas Weinert materials as well as the builder's nautical interests.
In particular the successful combination of large, glazed facades highlighted by bright surfaces emphasizes the shape and stylistic elements of modern yachts and cruise ships.

The resulting aesthetic is a combination of design, material and composition of the different areas, in particular the contrast between transparent and closed façade surfaces. Despite the object's impressive size, the façade's remarkable design ensures a harmonic integration of "Villa M" into an environment which is comprised primarily of older villas.


Sustainable energy efficiency within an innovative design concept


As a future-oriented, low-energy building, the villa fully meets functional and energy-related demands of a contemporary residential building. The Magdeburger Architects and Engineers Prize awarded the villa "Building of the Year" in the category New Construction.


Novelis ff2 ® for individual accents in the façade design


Novelis aluminium ff2® is characterized by a high permissible load, long durability and excellent weather resistance. Furthermore, it is environmentally friendly as it is 100% recyclable. Due to its excellent workability and various design possibilities it is the ideal material for high-tech applications and well-suited for sophisticated commercial buildings and high-end residential buildings alike.



Novelis Deutschland GmbH

www.novelis.com
sales.goettingen@novelis.com


Not just aluminium, Novelis Aluminium™