Alice Lane is a "green" Star
Next to the 'Dancing Towers' at 15 Alice Lane, Sandton (South Africa), another fascinating construction can be admired: The Annex-building got a "green" overhaul – with a perforated façade made from Novelis ff2®, which is known around the world for its durability and economic efficiency. The whole building was awarded with a 4-green-star by the Green Building Council of South Africa. This is an official rating system (comparable to LEED in US or BREEAM in UK) that objectively assesses how "green" a building is based on agreed standards and benchmarks.
Spectacular architecture in Johannesburg's business district

Architecture and design of the building go hand in hand with the integrated concept of sustainability from the interior to the façade. Designed by Paragon Architects, the building shines through a glass shell combined with Novelis ff2® aluminum sheets in a unique design. The creative combination of glass shell with a rear-ventilated and perforated Novelis ff2® façade enables sun protection combined with simultaneous light transmission. On the Eastern and Western gables, the silhouettes of tree images appear due to the punched sheets of painted aluminum.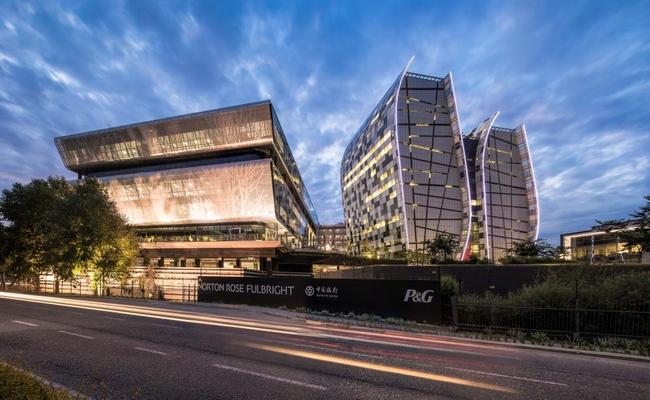 The Annex Gebäude and the dancing towers at the Alice Lane (© Andrew Bell/ Paragon Architects)

Perforated aluminum façade for dynamic play of colors

Apart from their visual appearance, the aluminum sheets from Novelis provide further benefits: They protect the building from the morning and afternoon sun due to the perforated façade and also regulate natural lighting. At nightfall, the interior illumination shines through the punched front to create an interplay of light and dark. In total, 4,686 square meters of Novelis pre-painted aluminum in 2mm thickness were installed in "sunrise silver". Novelis ff2® pre-painted aluminum was specially developed for façade applications and has a proven track record in the market due to its outstanding product properties and its excellent processability. For this prestigious exterior architecture, a coating with a PVdF content of 80% is used to ensure a long-lasting brilliant color effect. The high strength mechanical properties of Novelis ff2® combined with a high resistance to UV radiation allow a suitable installation also in extreme clime. The façade consultants Andrew Riley & Associates (California) also chose Novelis ff2® as it enables a minimal maintenance effort, which is essential for the economy of a building of this size, is one of main drivers for the decision.


| | | |
| --- | --- | --- |
| Perforated façade at the backside of the building | | Perforated Aluminumfaçade (© Andrew Bell/ Paragon Architects) |
Green Building Council South Africa

The reduced power consumption as well as the almost infinite recyclability of aluminum played a decisive role for validation of the 4-green-star. A 'green' landmark arose for Sandton – as well as more sustainability for Alice Lane.



Novelis Deutschland GmbH

www.novelis.com
sales.goettingen@novelis.com