Royal opening for Strathclyde University
The new Technology and Innovation Centre (TIC), located within the campus of the University of Strathclyde in Glasgow, aims to change the ways that the university and industry engage. This new iconic architectural project is clad with Novelis J57S®. The building was opened by Her Majesty the Queen and the Duke of Edinburgh in 2015.
University of Strathclyde, Technology and Innovation Centre

The building facilitates research and knowledge exchange activities by incorporating flexible, open plan work spaces alongside high quality research and laboratory accommodation including clean rooms, specialist laser optics materials laboratories and high voltage facilities.

This unique facility within Europe, the €120M TIC was inaugurated by Her Majesty the Queen in July 2015.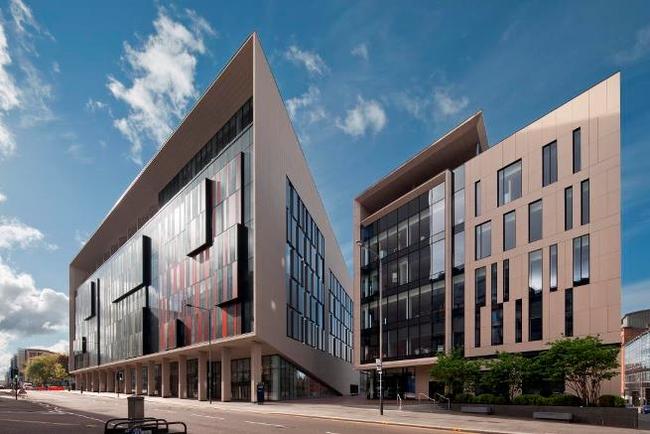 The main entrance turns out to be a visual attraction

In-depth research on nine levels

This striking, triangular building sited in the heart of Glasgow, is being held up as a potential transformer of the Scottish economy. Containing 9 storeys and some 25,000 square metres (equal to the size of 100 tennis courts) the TIC houses many offices, labs, two auditoria, break out spaces and ten seminar rooms. The central atrium enhances the interior with natural daylight from above and provides an inspiring working environment.


| | | |
| --- | --- | --- |
| | | Fascinating architecture in the heart of Glasgow |
Elegance and Dynamics unite in one façade

Mr. Christoph Ackermann, architect director at Building Design Partnership (BDP), chose Novelis J57S® for the façade which were batch anodised in five different colours. Some 3,000 square meters in 3.0mm thickness were used in total. The concept for the projecting aluminium panels on the east/west elevation was to create a sharp patterned elevation which has clearly defined recesses. The projecting surface of the anodised panels, which are glazed into the curtain walling, is flush with the adjacent rain screen cladding. This creates a dynamic façade which changes depending on the viewing angle. The panels themselves are anodised in Anolok 543 and 541 to add interest and reflect the variety of blond sandstone buildings nearby. BDP were particularly keen have an anodised finish which adds a special level of variation and richness to the panels.


| | | |
| --- | --- | --- |
| High quality research accumulated in the tip of the corner | | |
Novelis Aluminium, fabricated by Gilmour Ecometal (Glasgow), and anodised by United Anodisers (Huddersfield) provides a high-quality surface with metallic brilliance and consistency of colour and gloss levels. The weather-resistant properties of the anodised aluminium, has already proved itself globally for both interior and exterior architectural projects.



Novelis Deutschland GmbH

www.novelis.com
sales.goettingen@novelis.com