Novelis for sophisticated architecture
Dalian International Conference Center - shining architecture due to Novelis coil-anodised aluminium J73A®


image: © Duccio Malagamba

From a distance the building gives the impression of an oversized shell. Completed in 2012, the Centre is the basis for an ultramodern, extraordinarily designed 'little' city of some 100,000m² in the Chinese Liaoning Province. The translucent structure shields an exhibition centre with a 2,500 visitor capacity and an opera hall. Smaller conference spaces, like scattered pearls, are located throughout the core.

image: © Duccio Malagamba

Throuhg the Vienna architectural office COOP HIMMELB(L)AU Wolf D. Prix & Partner ZT GmbH, the architect´s plan and the project development prioritize in functional technology, construction and design. Ground-breaking design is incorporated both in the façade and the interior. The geometry of the façade stands out as a distinct structure whilst the brilliant interior panelling creates an impressive and special ambiance.
For the exterior and interior decoration, almost 1,000 tonnes of Novelis 3mm J73A® coil anodised aluminium was used covering some 120,000 m2: 75,000 m2 with an anodic layer of 20 micron for external panels and 44,000 m2 with 10 micron for the internal finishing.
J73A® proved an excellent choice of material for the largely perforated and stud welded façade.

Constructions in marine environments, where there is industrial pollution and large temperature variations require high quality materials offering long building life times. Novelis J73A® is perfectly suited for buildings located within these environments.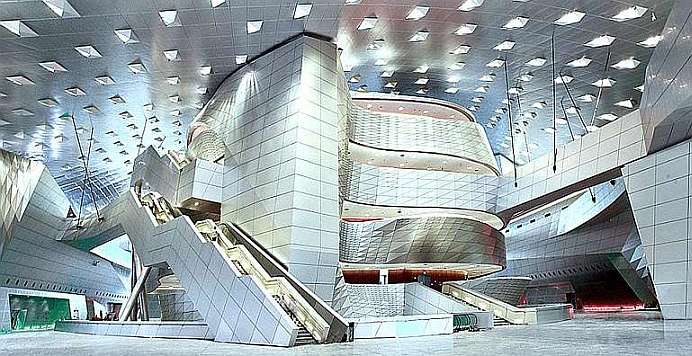 For such large and prestigious projects, the warranty of uniformity in colour and gloss levels offered by J73A®, makes it the perfect choice for façades requiring material from different production batches and casts.
The very narrow tolerances of the chemical alloy composition are key property for the Novelis brand product.

Novelis Deutschland GmbH

www.novelis.com
sales.goettingen@novelis.com


Not just aluminium, Novelis Aluminium™