Sochi's Tunnel – an Olympic Architectural Highlight
Novelis aluminium for outstanding olympic architecture

The aluminium cladding of the tunnel entrance made from Novelis pre-painted aluminium ff2® looks like filigree ornaments.

The Russian City of Sochi is scene of the Winter Olympics and Paralympics in 2014, as well as the location for the FIFA World Cup in 2018. The urban development projects implicate the construction of railway and road tunnels, building a total length of 30 kilometers.

Karen Saprichian, professor of International Academy of Architecture and director of project and design offices GrandProektSity LLC Russia, is the architect and manager of the impressive project.

Due to its high strength alloy and high-quality PVdF coating Novelis ff2® pre-painted aluminium was the ideal material for the tunnel cladding. Excellent workability and durability, as well as a corrosion- and chalk-resistant surface were essential for this sophisticated project. Novelis pre-painted aluminium is characterized by excellent weather resistance and high loadability.

SMK LLC, Novelis' partner in Russia, manufactured aluminium panels of 2 mm thickness for the tunnel cladding. The Russian company Metal Fasad, LLC installed 1,500 m² pre-painted aluminium in granite grey metallic and about 620 m² decor cladding in the color Sealandwhite.

The individual elements are arranged in irregular geometry and in different heights within the complex structure. Meanwhile, up to eight elements join together with different coordinates, always in one peak.
Even in the dark, LED projectors generate a spectacular dynamic lighting of the entire structure or individual elements in all color variants. Accordingly, the tunnel portals are equally impressive, at any time.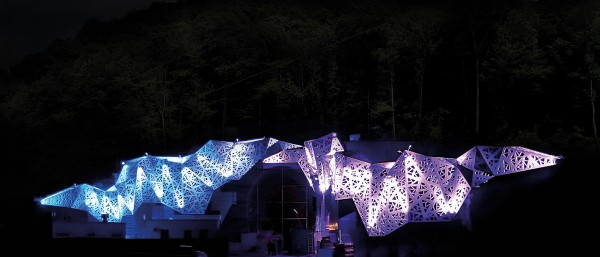 The project, originally called "Architectural and artistic design of tunnel portals of combined road Adler-Alpika, was nominated as one of the sixth best Russian building constructions in 2012. It won a silver medal at the Award festival "Zodchestvo".

Novelis Deutschland GmbH

www.novelis.com
sales.goettingen@novelis.com


Not just aluminium, Novelis Aluminium™