Novelis aluminium for a unique project: "Titanic Belfast"
Titanic Belfast® first opened its doors to the world on 31st of March. The iconic project is located in the heart of Belfast, on the slipways where RMS Titanic was built.

The 14,000 sq.m.(150,700 sq.ft.) venue accommodates nine galleries of interactive exhibition space, including a dark ride, underwater exploration theatre, recreations of the ship's decks and cabins and a luxurious conference and banqueting suite with capacity for up to 1000 people.

Titanic Belfast® is perfect to immerse oneself in the amazing story of Belfast in the 1900s. Taking a spin in the Shipyard Ride, experiencing life on board, learning about Titanic's maiden voyage, her tragic sinking, the many stories of human endeavour, and many more attractions.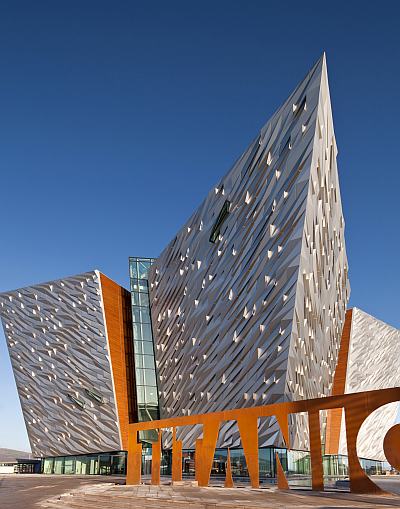 The unique architectural design is influenced by several maritime themes, including ice crystals, ships' hulls and the insignia of the White Star Line. The building's four corners represent the hulls of a ship, with a façade featuring decorative aluminum sheet and diamond-shaped windows.

The façade's eye-catching crystalline appearance is created from three thousand different-shaped panels, each crafted by folding silver anodized Novelis aluminum sheet into complicated asymmetrical shapes. The facades lean out at angles of up to 25 degrees, with complicated geometries that rely heavily on advanced computer aided analysis.

The purchaser, Harcourt Construction Northern Ireland Limited, commissioned EDM Spanwall, one of the UK & Irelands´s most experienced and respected architectural façade solution providers, for the design and manufacture of the panels. The German façade constructor, Metallbau Früh, was appointed for the installation of the attractive aluminium façade.

Take a look at Titanic Belfast®:

http://www.youtube.com/watch?v=0eL4Olk97OU&feature=related

http://www.youtube.com/watch?feature=endscreen&NR=1&v=qaOgNzXzZzU

Novelis Aluminium: Outstanding performances for architecture

Novelis J57S pre-anodising aluminum quality – ideally prepared for batch-anodising- is UV, corrosion and weather resistant and is designed for the highest architectural requirements. It is developed for a variety of interior and exterior applications in architecture.

All Novelis aluminium façade products are fire rated as non-flammable according to DIN EN 13501-A1.