A shiny homage to the Belgian Orangery
From the seed a former industrial warehouse growing into a modern, multifunctional corporate headquarter - the new central of Cockerill Maintenance & Ingénierie blooms through a golden facade of Novelis J57S®.
The corporate headquarters of the Belgian mechanical engineering group, Cockerill Maintenance & Ingénierie in Seraing, blosoms through its golden champagne skin. In the course of the renovation of the former industrial warehouse to the company headquarters, the facade was clad with Novelis J57S® aluminium anodised in a golden champagne in order to create an innovative building housing more than 600 employees.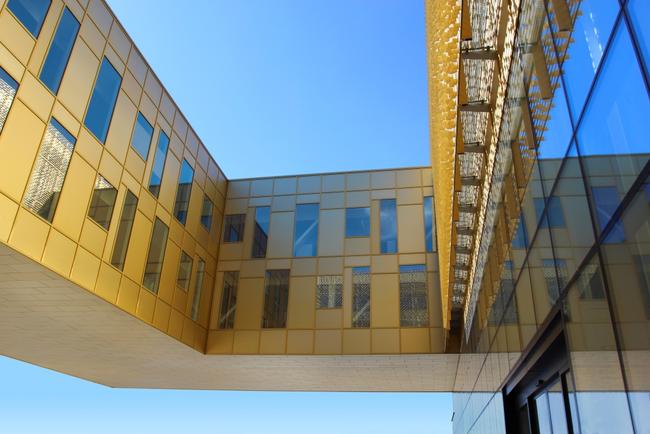 Overhanging building edge

Hole punched facade as optical highlight

For the design of the headquarters which has around 6,500 square meters of façade surface, the architect, Nina Ghorbal, of Reichen et Robert Associate, Paris, chose Novelis J57S® in anodising quality for a high-quality aluminium surface with metallic brilliance and consistency of colour and gloss levels. Particularly noticeable is the three-dimensional cladding. The combination of glass elements and batch-anodised aluminium in 2.0mm thickness with the J57S® in a golden champagne colour, provides a lively play of natural light and shadow. A second layer of suspended aluminium in the same color provides a visual highlight due to the reflection from the exterior façade. The weather-resistant properties of the anodised aluminium, in this instance processed by Metal Yapi (Istanbul), has already proved itself globally for both interior and exterior architectural projects.


| | | |
| --- | --- | --- |
| | | |
Spacious interior design

Additionally, the team of architects had creative constructive ideas for the construction of the building too. The combination of unalloyed and thermodynamic steel for the basic structure enabled a highly durable construction of lattice girders with a high load capacity. With a large span width of some 35 metres, the construction was prepared for installation in a nearby production hall which meant the steel girders had to be transported by crossing the river Meuse to the site where they were installed onto the building complex. An exposed atrium in the outdoor area as well as an overhanging building edge, underline the modern architectural style and this is demonstrated with the large structural dimensions and intelligent use of space. Thus the innovative building complex provides capacities for a reception, meeting rooms, an auditorium and a company restaurant which is all contained within this inspiring facade, emphasizing and promoting the character of CMI.


| | | |
| --- | --- | --- |
| Lively play of light and shadow | | Around 6.500 square meters facade surface with Novelis J57S® |

Novelis Deutschland GmbH

www.novelis.com
sales.goettingen@novelis.com