Architecture between nostalgia and design with Novelis aluminium
The industrial building embodies a functional, aesthetic link between traditional and modern architecture

In the heart of the idyllic Lower Saxony Dannenberg, characterized by traditional half-timbered houses and a historical city centre, this is where the company headquarters of Europe's leading textile manufacturer Nya Nordiska is located. Nya Nordiska designs and produces high-quality decorative and upholstery fabrics for residential and commercial sector.

The expansion of the manufacturing base amidst the historic buildings proved to be a balance between the demand for functional industrial buildings and the preservation of the area's cultural and historical character.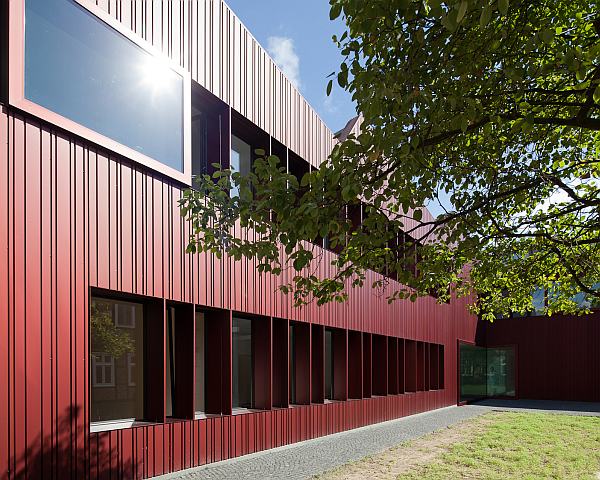 The Berlin architect team "Staab" faced this challenge with bravery: in autumn 2010 an extension comprising six interconnected buildings was erected, covering over 4,000 sqm, perfectly adjusted to the urban structure in color, form and scale. A leafy courtyard in the center forms an attractive contrast.

This demanding Industrial building project was enabled by the use of Novelis aluminum in pre-anodising quality J57S®. The 1 mm thick aluminum façade sheets were anodized in Sandalor-red. MN Metallverarbeitung processed Novelis J57S® to wellTEC® aluminum profiles and assembled the aluminum profiles to a total area of 1,500 sqm.The precise construction and the gable with the folded look form an integrated unit with the surrounding half-timbered houses.

Creative design skills

Bridging the gap between historical, traditional buildings and modern architectural design was a success: The red anodized façade of the the new buildings blends perfectly into the established structure of the old town; the sheet's bending and shaping properties allow it to shape the dimensions of the adjacent gable roofs. The extension looks restrained, but at the same time futuristic. The connection between existing half-timbered buildings and the new buildings is a prime architectural example of the successful integration of commercial buildings in the urban context.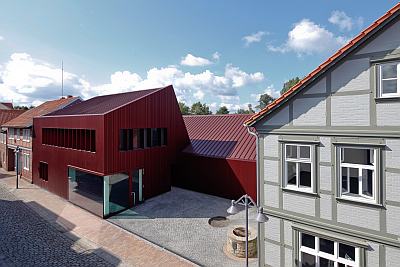 The base material Novelis J57S® has proven to be an ideal material for constructing innovative facade design options. Novelis aluminum J57S® is specially created with long-lasting brilliant surfaces, ideal for attractive and innovative facades, roofs and interior applications. The surfaces finishes available Novelis J57S® provide both decorative brilliance long-term durability even under extreme stress and weather conditions. J57S® pre-anodizing aluminum quality is UV, corrosion and weather resistant and is specifically designed to meet the high demands and a variety of applications in architecture.

All Novelis aluminium façade products are non-flammable and fire rated according to DIN EN 13501-A1.