Architecture with extraordinary accents
ff2® prepainted aluminium envigorates facade of south-african shopping mall

Sandton, a northern district of Johannesburg, emerged as the most important business and financial district in South Africa. Sandton City, one of the most exclusive and popular malls on the African Continent is located here. With its over 300 shops and boutiques, cinema and restaurants, this mall illustrates both international and South African flair.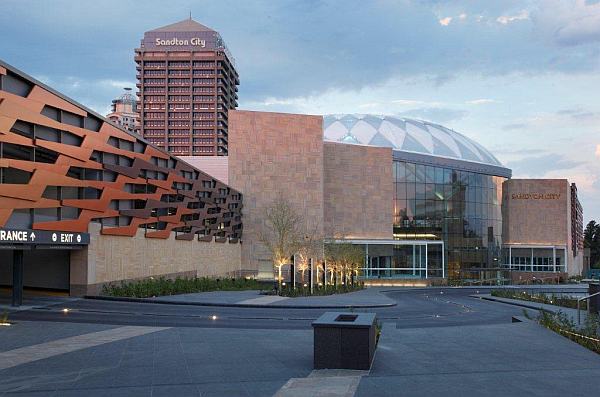 Architecture between culture and innovation

To enhance Sandton City's attractiveness a EUR170 million extension was completed in 2011. Following the renovation, this mega-complex encompasses 158,000 sqm after an enlargement of 30,000 sqm.

The conceptual design of the renovation was planned by RTKL Architects and executed by MDS Architects.

To meet the high demands on the cladding material for Sandton City, coil-coated aluminium sheets from Novelis were used for the project. This coil-coated aluminium sheet has a proven 40-year track record worldwide under the brand name ff2®. In addition to the sandstone cladding on the southeast extension, 15,000 sqm pre-painted aluminium of 2 mm thickness with high quality PVDF coating was used in total for most of the exterior facades.

To reflect the terra-related colours of the surrounding in its distinctive design, four ff2 copper colourings were selected: coppershine, copper metallic, copper brown metallic and redcoppermetallic –The coating on the back is in the same colours, with Novelis SP80, a particularly abrasion-resistant lacquer system.

Even in the interior construction, exclusive surfaces dominate. Pillars and escalators are also use Novelis aluminium, replacing stainless steel which proved to be too expensive. For this purpose, Novelis specially developed an aluminium alloy coated with SP80 clear lacquer. It can be worked excellently, furthermore it is decidedly scratch-resistant. The decorative structured surface with its aluminium nature-look comes close to the stainless steel surface.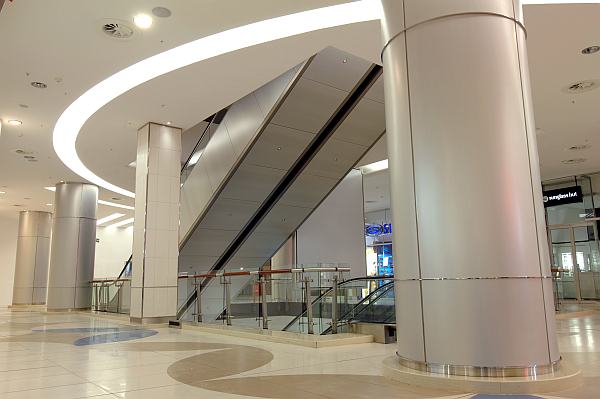 Extraordinary facade design with lasting value pre-painted aluminium ff2® of Novelis

ff2® was specially developed by Novelis for facade applications. Its various designs weather resistance and cost effectiveness makes it the ideal material for facade cladding.

During the production in the coil-coating process, a constant color and durable surface is achieved. Furthermore it is 100% recyclable. A broad range of plain, metallic and special colors and the easy formability of pre-painted aluminum ff2® offers architects and building contractors variety in the scope of designs, especially for facade cladding.
ff2® is non-flammable and has the classification A1 according to DIN EN 13501.