New Exhibition Center Basel
Extravagant lamellar structure for extravagant architecture

Novelis aluminium J57S® in anodized quality clads New Exhibition Center


Typically, innovative highlights are presented within the halls of an exhibition center. In this case, however, the new Baselworld exhibition center itself is the architectural highlight.
After 22 months of construction, the grand opening ceremony took place in April 2013.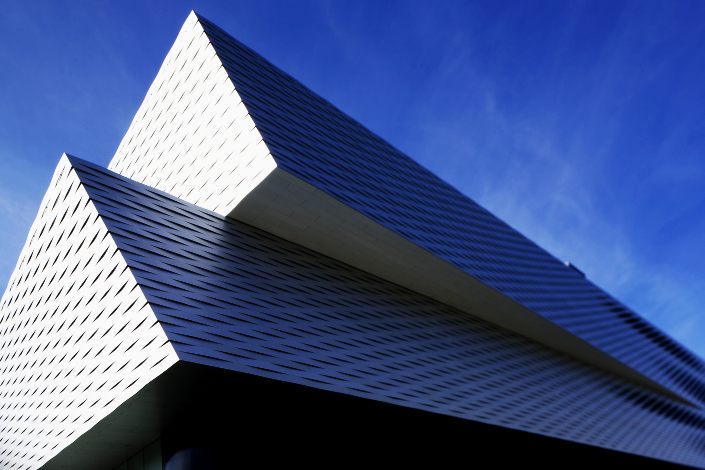 image: © Baselworld


The design presented by lead architect Herzog & de Meuron is special: It is a nearly perfect combination of functionality and aesthetics. "This is not just «fantasy» but created with strategic intent. Because the building is so vast it deserved something light and versatile – hence the aluminium ribbons," explained architect Jacques Herzog. Due to the spectacular lamellar façade, the building appears vibrant and attractive.
The glass basement level extends three stories high, with distinct views to the street. The "City Lounge" atrium is formed by a circular opening in the center of the hall and allows a direct view of the sky.

The "window to the sky"

images: © Baselworld and MCH Group AG

The two upper hall floors are placed against one another to create the illusion of separate entities. In contrast to the open and transparent ground-floor, the upper floors are designed to be closed. The lamellar façade construction presents an extravagant and dynamic feeling. Simultaneously, the City Lounge through its funnel-shaped "window to the sky" provides a visual connection of the two halls.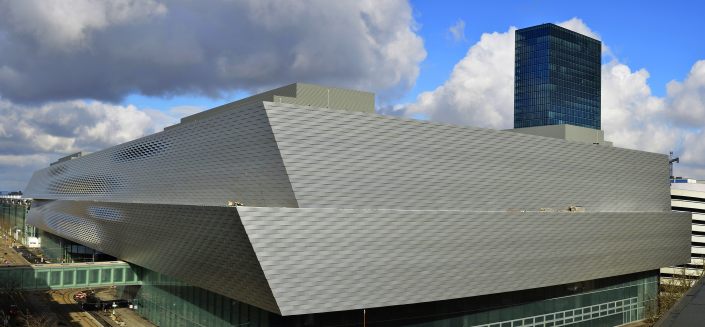 image: © MCH Group AG


Innovative façade construction for sophisticated architecture

J57S® aluminium façade material in anodizing quality was chosen as it fits the requirements for the lamellar façade and ceiling design perfectly. The brilliant, high-quality anodized surfaces ensure consistent quality and excellent processability, while at the same time offering distinctive and extravagant design possibilities.
In addition J57S® aluminium is 100% recyclable. In alignment with the high energy performance standards of the Basel exhibition center, J57S® is also environmentally sustainable.

Novelis Deutschland GmbH

www.novelis.com
sales.goettingen@novelis.com


Not just aluminium, Novelis Aluminium™