New life is breathed into the old dry dock
Novelis aluminum gives a vivid appearance to the museum

In October 2013 the new Maritime Museum of Denmark in Helsingør, located North of Copenhagen, opened its doors to the public. The museum's spectacular architectural design, created by the international renowned architectural group BIG (Bjarke Ingels Group), coupled with the subterranean positioning between the walls of a historical dry dock, allows for a unique visitor experience.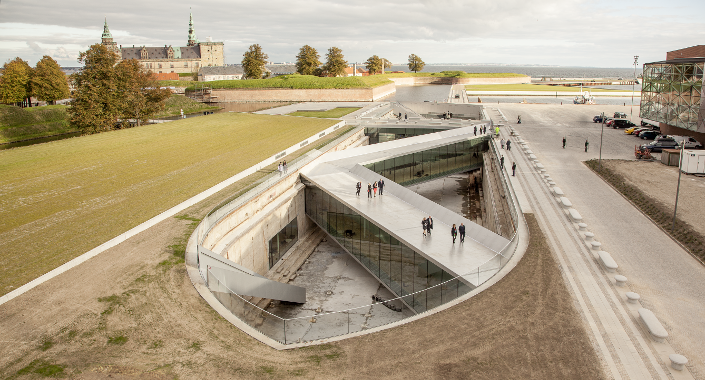 Disregarding the conventional approach of simply constructing the museum around the 150x25m dry dock, lead architect Bjarke Ingels instead chose to place the building 8 metres below sea level, directly into the concrete walls of the 60 year old dock. Criss-cross double–level bridges span the tapered dry dock and intensify the nostalgic maritime character and give the impression of being on board a ship.


The architect chose Novelis aluminum ff2 ® for the cladding of side walls and interior ceiling, as well as the stairs leading down to the dock, The ramps and bridge, which allows direct access to the castle, were clad with ff3 ®, coil coated aluminum in 3mm thickness.

To intensify the maritime impression, the architect chose an aluminum surface with weathering clear coat. The clear coat protects the aluminum surface from pollution during processing and assembly and will eventually become weathered by UV radiation in roughly 12 months. The streaky structure of the magnesium-rich aluminum alloy remains visible, giving the metal surfaces of the building a vivid appearance.

Novelis ff2 ® and ff3 ® aluminum has been specially developed for facade applications. Their excellent workability, highly permissible load and corrosion resistance have proven themselves in numerous challenging architectural projects worldwide, and are therefore the perfect choice of materials for such sophisticated projects.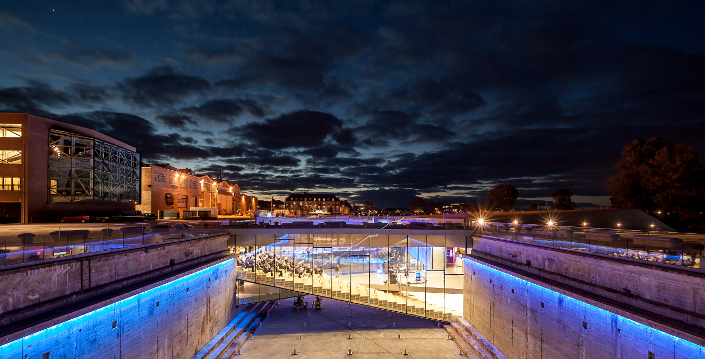 Photos: Luca Santiago


Novelis Deutschland GmbH

www.novelis.com
sales.goettingen@novelis.com


Not just aluminium, Novelis Aluminium™