Innovative architecture hosts French history
Striking aluminium facade for the new French National Archive

The extraordinary shape and structure of architectural design are the main features of the new building for the French National Archive in Pierrefitte-sur-Seine, near Paris. Designed by the Italian architects Massimiliano and Doriana Fuksas it opened to the public following three years of construction time.


The French National Archive, created after the French Revolution, contains some significant milestones of French history, e.g. the last Will and testament of Napoleon.
The new Archive is composed of two main "bodies": one horizontal building with glass facades, accommodating offices, conference rooms and exhibition spaces and the ten-story archive building clad with Novelis aluminum.


For the ceiling panels of the horizontal building some 30 tonnes of high quality Novelis pre-painted aluminum were used. The Novelis aluminum brand 'Veral' with it's premium PVdF surface finish, was produced at the Novelis plant in Bresso, Italy. The diamond-shaped facade of the colossal archive building changes optically in light and transparency by a combination of glass and the cladding of 200 tonnes of Novelis pre-anodised aluminum J73A. The reflection in the water basin around the building also reinforces the impression of elegance and dynamism.


Anodised aluminium is the ideal facade material especially for high demanding surfaces: due to its durable surface with decorative brilliance as well as the long-term durability and corrosion resistance even under extreme weather conditions.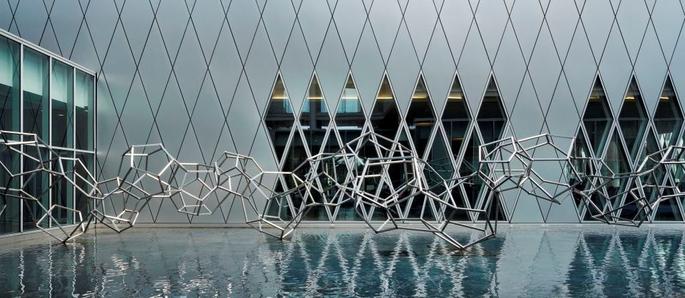 Novelis Deutschland GmbH

www.novelis.com
sales.goettingen@novelis.com


Not just aluminium, Novelis Aluminium™